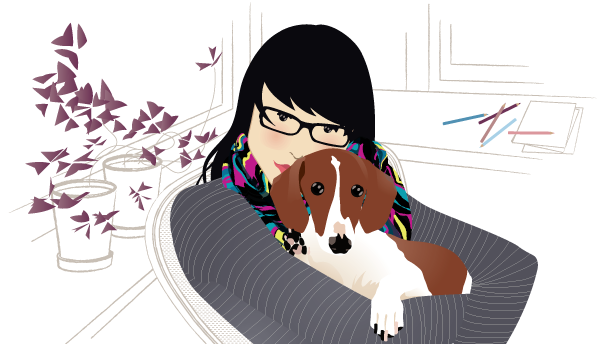 My name is Cybèle (like seaBELL) and I'm a freelance illustrator specializing in vector-based artworks with a foundation in a traditional drawing and painting practice. Using a digital approach, I aim for a relaxed feel with the loose, free-flowing linework I enjoy from ink drawing. The inspiration for my work comes from the global experiences of my third culture kid upbringing and my love of nature, travel, books, and fashion.
When I began to draw digitally, I gravitated towards vectors, whose hard edges and flat colors most closely resembled my favored mediums of ink and gouache. I have embraced vectors for having a digitally authentic look - an instantly recognizable medium in its own right. As technology has progressed, I am able to show my hand more, with the same easy flow as drawing with a brush, allowing for interesting new stylistic adaptions. I like to use seamless patterns to create textures and create a contrast to flat areas. I have a global client list including; Tim Hortons (Canada), Beyoncé (USA), Oxford Publishing (UK), Fuzzy Control (Japan), Elle (Korea), Burde Förlags AB (Sweden), Dolly (Australia), and others.
Please don't hesitate to get in touch!


advertising




●

Elexa by Trojan

●

Gilette Daisy Razors

●

Hawaiian Telecom

●

Hewlett Packard

●

Holt Renfrew

●

Hudson's Bay Company

●

iCandi eyewear

●

Liz Collins

●

LU biscuits

●

Marks & Spencer

●

Samsung

●

Smirnoff

●

Starwood Hawaii

●

Subaru

●

Tim Hortons

●

Tourism Ontario

●

Victoria's Secret Pink

●

Yahoo!

●
book




●

Burde Förlags AB

●

Harcourt Canada

●

Oxford Publishing

●

Penguin Publishing

●

Random House

●
recording




●

Fuzzy Control

●
editorial




●

American Salon

●

Baltimore Style

●

Baseline

●

Bliss

●

Brides

●

Canadian Gardening

●

Child

●

Cleo

●

COSMOgirl! 

●

Cosmopolitan

●

Dolly

●

DrDrew.com Inc.

●

Dwell

●

ELLE 

●

Financial Planning

●

Financial Week

●

Girl's Life

●

Glamour 

●

Glow

●

GQ Japan

●

Lucky

●

ManhattanFILE

●

Modern Bride

●

On Earth

●

seventeen

●

SOMA

●

sweet 16

●

Tatler

●

Teen

●

Teen People

●

Vibe

●

Wall Street Journal

●

ym 

●

Zexy

●
mobile & social media




●

Grand Street Dental

●

Parkwood

●

Zanzo Studios

●